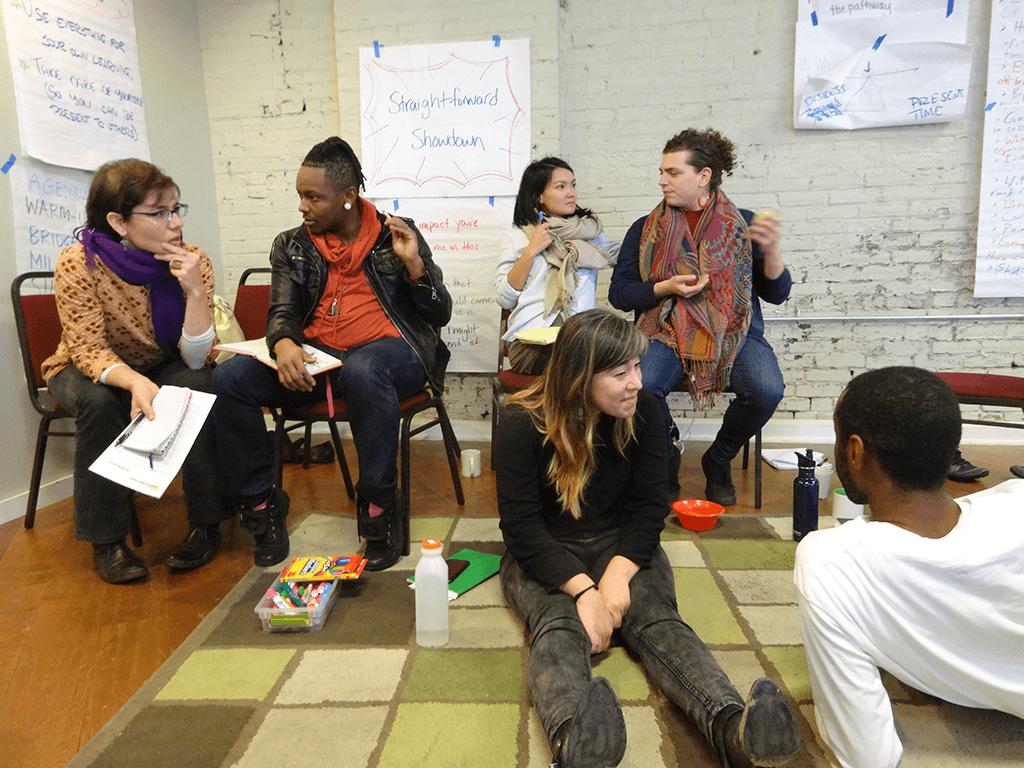 Training for Social Action Trainers (TSAT)
Philadelphia, PA – March 2-4, 2018
Join us for an intensive training designed for experienced facilitators wanting to revitalize their work, new trainers wanting to inspire, teachers, community leaders, activists — anyone wanting to take their skills to a new level and learn how training can be used more effectively
APPLICATIONS HAVE CLOSED
This workshop is full with a wait list. If you have questions about availability, email registration@trainingforchange.org
Training and facilitation skills are vital to successful organizing and movement building. People with these skills support groups by developing new leaders, transferring knowledge between generations, increasing participation among members, educating and engaging constituents, supporting meetings and decision making, navigating conflict, and supporting successful, creative and disciplined actions. Yet, people who play the role of educator, trainer or facilitator rarely get an opportunity to hone their skills among other trainers. Few organizations commit the time to helping their leaders learn the craft of training. With this in mind, The Training for Social Action Trainers (TSAT) is designed to give people the opportunity to develop a stronger sense of the training tools, approaches and choices that will work for them to be most powerful and useful in their trainer role.
We aim to confirm participants at least a month before the training. We're mindful that folks coming from out of town need time to book travel, and we'll follow up as soon as possible about the acceptance process. Please don't book travel or accommodations until we confirm registration.
We're committed to accepting a diverse group for each training and to supporting folks with less access to resources to attend. People of color, working class folks, and folks from less-resourced organizations are encouraged to apply. We also aim to accept people with specific groups, projects, or organizations back home to apply what they learn. If you'd prefer to apply by phone instead of online, there is a phone number included in the application.
WORKSHOP FEE This workshop costs $200-$700 US, sliding scale based on income. The fee includes over 23 hours of training, meals during workshop hours, and simple lodging for people who request it. To determine your fee, use the chart below.
| | | | | | | |
| --- | --- | --- | --- | --- | --- | --- |
| If your income is… | $15,000 | $15,001 – $25,000 | $25,001 – $35,000 | $35,001 – $45,000 | $45,001 – $55,000 | over $55,000 |
| You Pay… | $200 | $270 | $350 | $425 | $550 | $650 |
If you are being sent by an organization with an annual budget over $200,000, the fee is $700 US.
WORKSHOP FORMAT
The workshop begins with dinner and registration at 6PM Friday and runs until 6PM Sunday. The workshop hours for each day are as follows:
Friday, start 6:00PM, end between 9:00-10:00PM, dinner provided
Saturday, (8:00 or 9:00AM breakfast) start 9:00 or 10:00AM, end between 9:00-10:00PM, lunch and dinner provided
Sunday, (8:00 or 9:00AM breakfast) start 9:00 or 10:00AM, end by 6:00PM, lunch and afternoon snacks provided.
Though the hours of this workshop are long, we've found that our experiential style helps keep people engaged, alert and energized through the weekend. We also provide time for short and extended breaks within our agenda and encourage participants to take care of themselves so that they can stay fully present. Please contact us in advance if you have questions or concerns about the long hours of this workshop.
The workshop is designed as an experiential package with each session building on the previous session. We want to create the best learning environment possible for participants to absorb the combined learning of each session and therefore WE DO NOT ALLOW PARTIAL ATTENDANCE, you must commit to taking the entire workshop. The central components of this workshop help participants build their skills in the areas of creating safety and cohesion so that a group can do its best work together, using experiential activities to ellicit the wisdom of the group and guide their learning, working with diversity within groups, and principles of design that support stronger workshops.
Throughout the workshop there are multiple opportunities for discussion about specific questions or challenges that you may want to explore in this workshop. The TSAT is a fun but rigorous workshop and as participants stretch themselves to become better trainers, strong emotions can surface. We do our best to support you to take care of yourself in this workshop and get the most learning out of challenging moments.
AS A PARTICIPANT, YOU WILL
Gain greater awareness about yourself and your strengths as a facilitator;
Get a chance to take risks, experiment and refine skills in a safe and supportive environment;
Get the stimulation of fresh approaches and increased options;
Receive personal guidance from experienced trainers in a small group setting ;
Learn new tools that are easily adapted, principles of workshop design, skills for working with diversity and a better understanding of how to use experiential education methods effectively.
WHO SHOULD ATTEND THIS WORKSHOP?
Experienced and less-experienced facilitators, consultants and trainers…Activists and organizers wanting to use training more effectively in their work… Teachers, community leaders, pastors, consultants and others who want more experiential tools. The TSAT is a great way to get introduced to TFC's training style if you are considering bringing TFC trainers to work more closely with your organization or if you may be considering taking other trainings that we offer. Anyone who takes the TSAT is then qualified to be a participant at TFC's Advanced Training of Trainers, an extended 6-day intensive the delves more thoroughly into group dynamics, conflict in groups, and working cross-culturally.
WORKSHOP GOALS
To enhance workshop facilitation and design skills
To increase the training tools you can use effectively
To gain greater awareness of yourself as facilitator
To meet and receive support from other trainers and learn about new developments in the field
JUDITH C. JONES FELLOWSHIP FOR TRAINERS OF COLOR
Graduates of Training for Social Action Trainers who identity as people of color are eligible to apply for our Judith C. Jones Fellowship for Trainers of Color. Learn more about the Fellowship, here.
Bring this workshop to you!
Do you want to host this workshop with members of your organization or group? If you have multiple group members or staff interested in this training, we can come to you. To request we bring this workshop to your group, submit a custom request and let us know.
[google-translator]