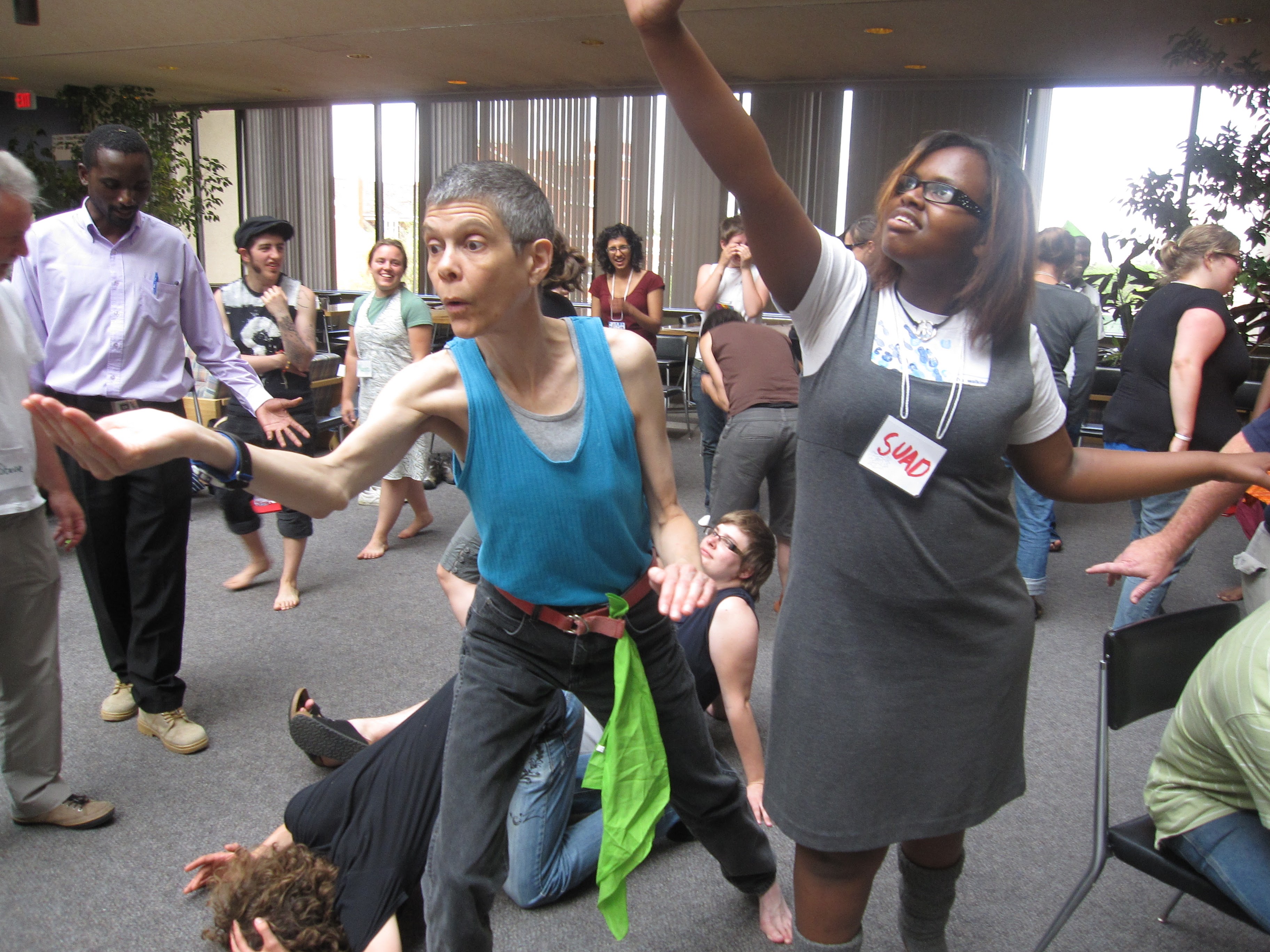 How to Do Transformational Work
January 13-18, 2020 – Philadelphia, PA
Learn how to extend experiential education into the domain of transformation, assisting workshop participants to identify and loosen their blocks to greater effectiveness. In Direct Education, transformational work, at its core, means groups and individuals breaking through self-limiting beliefs and practices, leading to behavior change that lasts beyond the transformational moment. This workshop will assist you to help groups use the "teachable moment" – and the emotions that can surface – to more full empowerment.
Applicants to this training must have attended an Advanced Training of Trainers (ADTOT) and Training for Social Action Trainers (TSAT).
APPLICATIONS ARE CLOSED
WORKSHOP FEE: This workshop costs $450-$1,500 USD, sliding scale based on income. The fee includes over 50 hours of training, meals during workshop hours, and simple lodging for people who request it. To determine your fee, use the chart below. Scholarships are available thanks to support from the Conflict Transformation Fund.
| | | | | | | |
| --- | --- | --- | --- | --- | --- | --- |
| If your income is… | $15,000 | $15,001 – $25,000 | $25,001 – $35,000 | $35,001 – $45,000 | $45,001 – $55,000 | over $55,000 |
| You Pay… | $450 | $575 | $700 | $875 | $1,100 | $1,350 |
For organizations with an annual budget of $200,000 or more, the fee for this workshop is $1,500. If you have questions about the fee or the workshop, feel free to contact us!
As a participant, you will
Take next steps as facilitators, learning how to do transformational work in a workshop setting
Examine the process of intervention: how to diagnose; how to observe and respect the inner process; when to intervene; intervention options
Examine the process of group development, including how to identify the disavowed parts and effectively build a safe container
Explore this work in relationship to our spiritual journey, recognizing that spirituality is often a disavowed part of social action groups
Understand how this "micro-work" fits in the larger context of social change
Have fun
Workshop Format
The workshop begins with dinner and registration at 6PM Monday and runs until 6PM Saturday.
The workshop hours for each day are as follows:
Monday, start 6:00PM, end between 9:00-10:00PM, dinner provided
Tuesday thru Friday, (8:00 or 9:00AM breakfast) start 9:00 or 10:00AM, end between 9:00-10:00PM, lunch and dinner provided
Saturday, (8:00 or 9:00AM breakfast) start 9:00 or 10:00AM, end by 6:00PM, lunch and afternoon snacks provided.
Like all Training for Change trainings, the week is designed as an experiential package and requires full participation; partial attendance is not allowed. The tools in this training will include demonstrations, discussions, practice, and spiritual work.
Application and Acceptance Process
We aim to confirm participants at least a month before the training. We're mindful that folks coming from out of town need time to book travel, and we'll follow up as soon as possible about the acceptance process. Please don't book travel or accommodations until we confirm registration.
We're committed to accepting a diverse group for each training and to supporting folks with less access to resources to attend. People of color, working class folks, and folks from less-resourced organizations are encouraged to apply. We also aim to accept people with specific groups, projects, or organizations back home to apply what they learn. If you'd prefer to apply by phone instead of online, there is a phone number included in the application.