Funded by you, the grassroots, for over three decades
No matter how you donate – as a monthly Sustainer, Major Donor, or a one-time donation – every dollar directly supports training and capacity building for social justice movements. This looks like scholarships for public workshops, fellowships and new programs, and getting trainers in the field to support on campaign strategy, team-building, facilitation, and other movement building skills.
Read below about different ways to donate.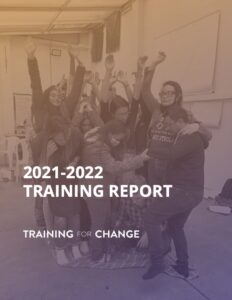 Check out a snapshot of our work, July 2021 through June 2022, including organizations we worked with, public program stats, and testimony from trainers and folks we trained.
Read the full report here.
Become a Monthly Sustainer
Monthly Sustainers are the backbone of our grassroots funding, making general operations sustainable and innovative programming possible. Sustainers give any amount monthly and get behind the scenes updates on our work. DONATE NOW, and be sure to opt in to make your gift monthly.
Become a Major Donor
Major Donors give larger amounts, providing vital support to TFC programs, scholarships, and operations. Major Donors give at least $300 a year and receive additional updates about our work. Whether you're able to give $300, $3,000, or $30,000, larger gifts help our work thrive. Contact us to pledge an annual gift or learn more. DONATE NOW.
Plan a Bequest or Legacy Gift
In recent years, bequests – donors adding TFC to their will – have enabled new programs, grown staff, and increased accessibility for all of our workshops. We're so grateful for these very personal and thoughtful gifts. If you're interested in exploring giving through a bequest, we'd love to talk with you.