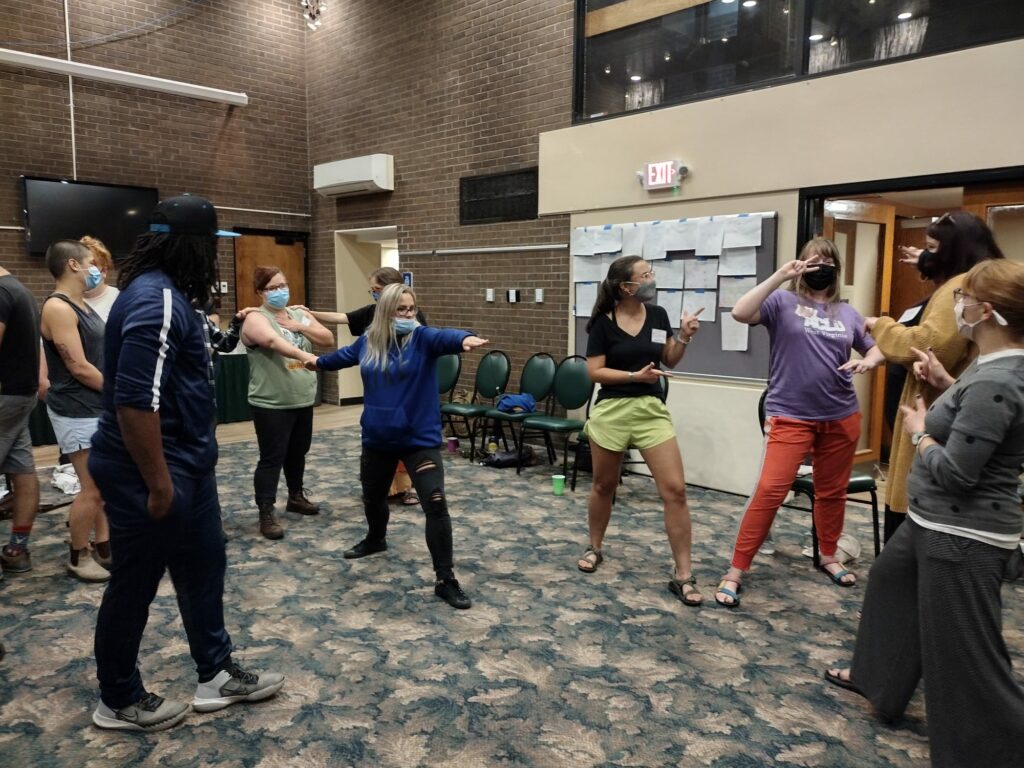 West Virginia Organizing Skills Intensive
This workshop is designed to support up-and-coming West Virginia organizers to understand power and hone their craft.
We are not currently accepting applications for this workshop.
WHY THIS WORKSHOP?
As organizers, we often have to learn skills as we go, on our own.  We've stepped into meeting halls, a rough agenda in hand, finding our ways through a decision-making process. Or we've navigated a series of conversations, inviting people one by one into our work. We've tried actions, invented tactics, made strategy plans and bumped our ways through conflicts.
This workshop is for those organizers: folks waist deep in the work, craving an opportunity to utilize the reflection, frameworks, skill-development and relationships that an intensive organizing workshop has to offer.
If you're a practicing West Virginia organizer who is looking to invest in their own development, this training is for you.
This workshop is proudly co-sponsored by West Virginia Can't Wait and Training for Change's Organizing Skills Institute.
Participants in this workshop will
Gain greater awareness about themselves and their strengths as an organizer

Explore the nature of power and how it relates to social change

Try out and refine new organizing skills in a supportive environment

Grapple with organizing frameworks and patterns and how they manifest in a group

Get the chance to take risks and experiment

Trouble-shoot real, at-home organizing challenges
Who should apply?
This workshop is open to all practicing West Virginia organizers.
We do encourage participants to apply with someone they work with. We have found that when participants attend in teams, they're able to better apply the skills and frameworks they learn when they return home. Due to the level of interest in this workshop, we will not be able to accept more than 3 participants per organization. We will ask groups with more than 3 applicants to help us choose their ideal team. 
We will select final participants based on these criteria:
Are currently organizing with a group, team or organization

Will likely be in West Virginia for at least the next 5 years

Have an appetite for learning and clear learning goals

Are contending for state power or stepping in where government is failing

Are organizing with people on the margins including folks who are poor or working class, are in recovery or active use, are housing-insecure, are Black, are rural, are young

Show an interest in transformational change, both personally and politically 

Have an orientation toward mass politics or multi-racial populism

Could have mutual shared interest with WV Can't Wait
Workshop format
This is a four day, in-person workshop. The workshop begins with dinner and registration at 6pm on Day One and runs until 6pm Day Four. The workshop hours for each day are as follows:
Day One: Start 6PM, end between 9PM and 10PM, dinner provided

Day Two: Start 9AM, end between 9PM and 10PM, breakfast, lunch and dinner provided

Day Three: Start 9AM, end between 9PM and 10PM, breakfast, lunch and dinner provided

Day Four: Start 9AM, end at 2PM, breakfast and lunch provided 
Though the hours of this workshop are long, we've found that the experiential style of the workshop helps keep people engaged, alert and energized through our time together. We also provide time for short and extended breaks within the agenda and encourage participants to take care of themselves so that they can stay fully present.
This workshop is designed as an experiential package with each session building on the previous. We want to create the best learning environment possible for participants to absorb the combined learning of each session and therefore we do not allow partial attendance.
Throughout the workshop there are multiple opportunities for discussion about specific questions or challenges that you may want to explore. This is a fun but rigorous workshop. As participants stretch themselves to become more skillful organizers, strong emotions can surface. We do our best to support you to take care of yourself in this workshop and get the most learning out of challenging moments.
How much does it cost?
This workshop has a sliding scale fee of $200-$1,000 based on income and ability to pay. This fee covers lodging, nine workshop meals, trainer time and materials. Full scholarships, as well as childcare and travel stipends, are also available on a needs-basis.
What are the COVID protocols?
This is an in-person training. Our COVID precautions are as follows. If you have questions about these protocols, please contact us.
Participants are strongly encouraged, but not required, to be vaccinated.
Participants will be required to wear masks, unless case numbers fall below June 2021 numbers.
There will be outdoor eating options.
Participants will have private lodging.

If someone is determined to be sick at the training, we will disclose this to the group.

If you are exposed to COVID within 10 days before the training, we will ask you to show a negative PCR test in order to attend.