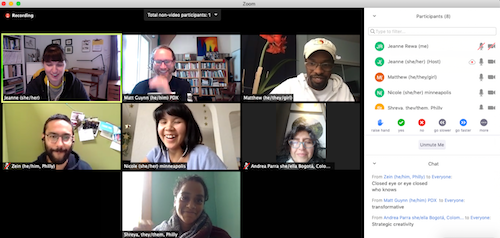 Online Training: When Things Go Wrong Online
Amidst COVID-19, we aim to make online workshops as accessible as possible. Fees are sliding scale; please use accordingly for access to these tools, including naming your own fee. Fees support participants unable to pay, and keep our program sustainable.
No Up Coming Workshops Found
No matter how much we prepare for a training or meeting, things can and will go wrong. Ever have a technology glitch, a challenging participant derail the group, or an agenda that doesn't match who shows up when facilitating online? If so, this advanced online training is for you!
This training offers tools and approaches to boost your responsiveness for when things go wrong. You'll leave more prepared for challenges and confident in your ability to adapt in the moment. We'll cover skills for both navigating group dynamics as well as technology tips and tricks. These skills also increase accessibility for inter-generational groups and for groups with varying experience with technology.
It is recommended, but not required, to attend the Facilitating Virtual Meetings training or the Leading an Online Training or Webinar training before taking this training.  We'll cover tech strategies that apply across different software participants use. For training on specific software, individual coaching is recommended.
Length: 2 hours
ONLINE WORKSHOP FEE
This workshop costs $35 – $200 US, sliding scale based on income. If you are being sent by an organization with an annual budget over $200,000, we request you pay a fee of $200 US.
| | | | | | | |
| --- | --- | --- | --- | --- | --- | --- |
| If your income is… | $15,000 | $15,001 – $25,000 | $25,001 – $35,000 | $35,001 – $45,000 | $45,001 – $55,000 | over $55,000 |
| You Pay… | $35 | $55 | $75 | $95 | $120 | $150 |
If you are being sent by an organization with an annual budget over $200,000, the fee is $200 US.
BY THE END OF THE TRAINING, YOU WILL...
Build confidence to face common challenges with online meetings or trainings and navigate them successfully.
Be familiar with both technology challenges and difficult group dynamics that may come up in an online training or meeting.
Have specific strategies for when things go wrong in online meetings or trainings.
Have a deeper understanding of how face-to-face facilitation and training techniques can be adapted for online spaces.
Have tools and approaches to apply immediately, regardless of the software you will be using.
WHO SHOULD ATTEND THIS WORKSHOP?...
Anyone training and facilitating online who want to increase their effectiveness using interactive and experiential tools. We welcome a range of experiences – from beginner online facilitators to those with more experience. Some face-to-face facilitation experience is helpful for this training.
It is recommended, but not required, to attend the Facilitating Online Meetings training and/or Leading an Online Training or Webinar training before attending this training.
WORKSHOP FORMAT...
This is an interactive online training. Come prepared to participate fully, just as you would an in-person interactive training. Please try to connect from a quiet place on a computer with headphones. A computer with a webcam is recommended to get the most out of the training. High speed internet will give you the best experience. Details for how to connect to the session will be sent to you prior to the day of the training. The training will include follow-up resources you can use after.