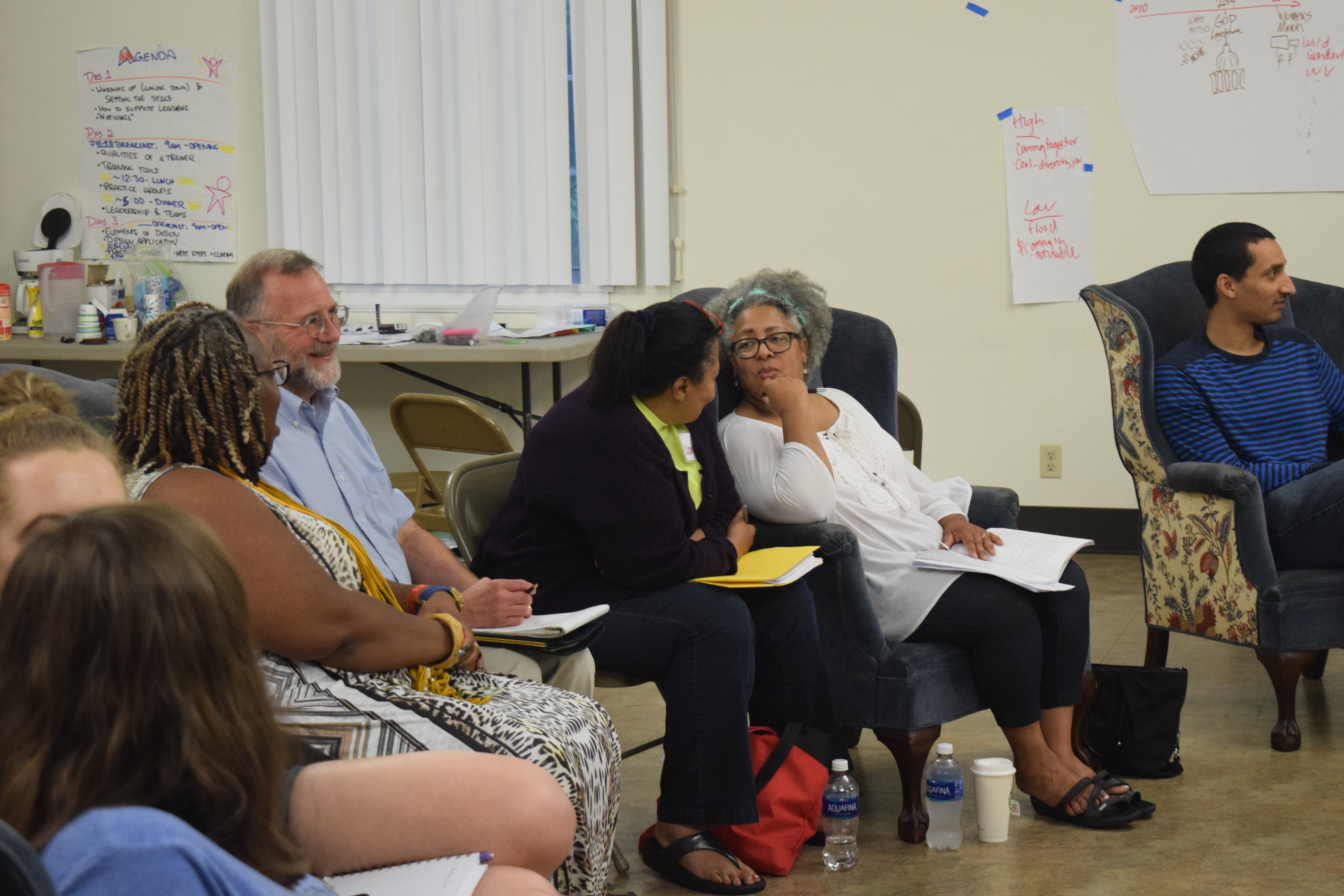 Honing Our Craft: West Virginia Training for Trainers 2.0
April 26-28, 2018 – Charleston, WV
50 West Virginians from 30 organizations across the state have graduated from one of the very first West Virginia Training of Trainers. This workshop is a chance for those graduates continue to build skills together.
If you're a West Virginia organizer or community leader who wants to take their training and facilitation skills to the next level, this is a workshop for you.
WHO SHOULD ATTEND THIS WORKSHOP?
This workshop is open to folks who currently live in West Virginia who have taken the West Virginia Training for Trainers.
If you have not taken the West Virginia Training for Trainers and are interested in participating in future opportunities in West Virginia, contact Katey Lauer at wvtrainersproject@gmail.com or 304-546-8473 to learn more about The West Virginia Trainers Project. If you do not live in West Virginia and are interested in attending another Training for Change workshop, check out other upcoming trainings here.
We encourage participants to come with someone they work or volunteer with. We have found that when participants attend in teams, they're able to better apply the skills and frameworks they learn when they return. Due to growing interest in this training opportunity, we will have to limit the number of attendees per group.
Workshop Fee
This workshop fee is sliding scale based on income:
| | | | | | | |
| --- | --- | --- | --- | --- | --- | --- |
| If your income is… | $15,000 | $15,001 – $25,000 | $25,001 – $35,000 | $35,001 – $45,000 | $45,001 – $55,000 | over $55,000 |
| You Pay… | $100 | $150 | $200 | $250 | $300 | $400 |
What will we learn?
In this workshop, we will learn more about the role of educator, trainer, or facilitator. You'll get a chance to develop more strategies to help the groups you work with. We will:
Dig more deeply into how we use the Experiential Cycle for learning (including how to help groups "generalize" and get to those key take-aways);
Offer more tools and lessons for agenda design and preparation;
Explore methods for how we support groups to become their most powerful, by uncovering their own wisdom and even by working through their own self-limiting beliefs;
Dig into patterns that arise in groups around conflict, difference and diversity.
Participants will
Get to swap training and facilitation stories in a supportive environment;
Reflect on their own growth in facilitation since their previous Training for Trainers;
Explore more deeply the art of design and agenda preparation;
Gain greater awareness about themselves and their strengths as facilitators;
Get a chance to take risks, experiment, and refine skills;
Receive personal guidance from experienced trainers in a small group setting.
Be prepared to share stories of what's working from the tools you are applying at home–and be prepared to give and get support and coaching from others on how to handle challenges we are facing.
Workshop Format
The workshop begins with dinner and registration at 6PM on Thursday and runs until 6PM Saturday. The workshop hours for each day are as follows:
Thursday–start 6PM, end between 9PM and 10PM, dinner provided
Friday–start 9AM, end between 9PM and 10PM, breakfast, lunch and dinner provided
Saturday–start 9AM, end by 6PM, breakfast and lunch provided
Though the hours of this workshop are long, we've found that the experiential style helps keep people engaged, alert and energized through our time together. We also provide time for short and extended breaks within the agenda and encourage participants to take care of themselves so that they can stay fully present.
The workshop is designed as an experiential package with each session building on the previous session. We want to create the best learning environment possible for participants to absorb the combined learning of each session and therefore WE DO NOT ALLOW PARTIAL ATTENDANCE; you must commit to taking the entire workshop.
Throughout the workshop there are multiple opportunities for discussion about specific questions or challenges that you may want to explore. This is a fun but rigorous workshop and as participants stretch themselves to become better trainers, strong emotions can surface. We do our best to support you to take care of yourself in this workshop and get the most learning out of challenging moments.
[google-translator]