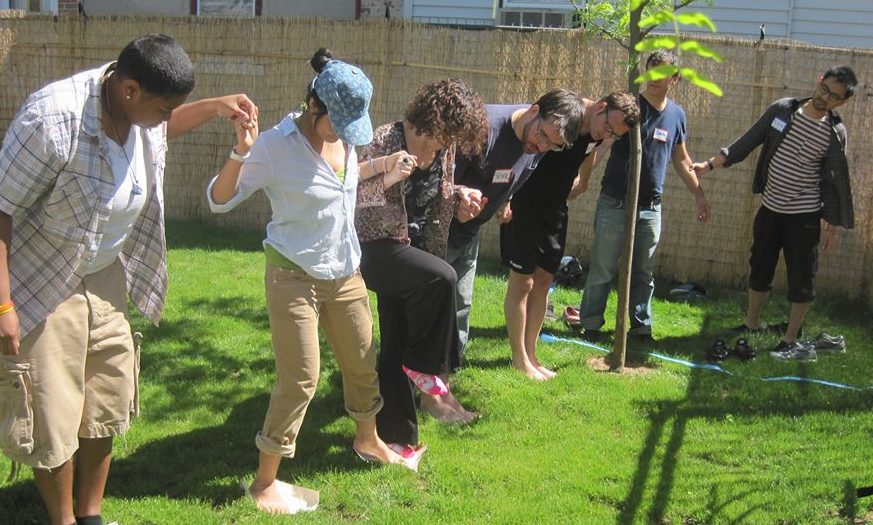 Adventure-based Learning (ABL)
Adventure-Based Learning is designed to introduce trainers to a set of invigorating tools that you can use to build group cohesion, explore conflict, examine leadership roles — all in a playful, experiential way. This 2-day workshop will teach you how to integrate adventure-based learning (ABL) tools to make your training more dynamic and more valuable to your participants.
Adventure-based learning provides physical and intellectual problems for groups to solve. The "group challenge" helps people explore issues of leadership, decision making, communication and conflict. This 'hands-on' approach provides a laboratory for people to experiment with different behaviors and see their own dynamics more clearly. ABL's offer an opportunity for groups to make decisions in the moment, build their teamwork and become more aware.
| | | | | | | |
| --- | --- | --- | --- | --- | --- | --- |
| If your income is… | $15,000 | $15,001 – $25,000 | $25,001 – $35,000 | $35,001 – $45,000 | $45,001 – $55,000 | over $55,000 |
| You Pay… | $125 | $150 | $175 | $210 | $265 | $300 |
If you are being sent by an organization with an annual budget over $200,000, the fee is $350 US.
As a Participant You Will ...
Get a chance to take risks, experiment and refine skills in a safe and supportive environment

Consider how to design challenges into your trainings in order to develop effective teams, build strong leaders and resolve conflicts

Learn theory about how to lead ABL activities and practice leading an ABL

Adapt tools effectively so that everyone can learn and feel empowered to participate

Receive personal guidance from experienced trainers in a small group setting
Who Should Attend?
Trainers looking to expand their toolkit to include 'group challenge' activities

Organizers and community members who want to support their group to take on bigger challenges, build closer relationships or are ready to escalate and take more risks

Cultural workers who want to strengthen communication, invite expression, creativity and out of the box thinking  

Activists who want tools that prepare people quickly to get into action  
Goals
to expand participants toolbox;

to gain theory and practice in leading adventure-based learning (group challenges);

to take next steps as a facilitator, especially working the Experiential Cycle of Education
Workshop Format
The workshop begins with breakfast and registration 8AM Day One and runs until about 5:30 PM Day Two. The workshop hours for each day are as follows:
Day One, (8:00 or 9:00 AM breakfast) start 9:00 AM, end 6PM, lunch provided.
Day Two, (8:00 or 9:00 AM breakfast) start 9:00 AM, end 6:00PM, lunch provided.
The workshop is designed as an experiential package with each session building on the previous session. We want to create the best learning environment possible for participants to absorb the combined learning of each session and therefore WE DO NOT ALLOW PARTIAL ATTENDANCE, you must commit to taking the entire workshop. The central components of this workshop help participants build their skills in the areas of creating safety and cohesion so that a group can do its best work together, using experiential activities to elicit the wisdom of the group and guide their learning, working with diversity within groups, and principles of design that support stronger workshops.
Application and Acceptance Process
We aim to confirm participants at least a month before the training. We're mindful that folks coming from out of town need time to book travel, and we'll follow up as soon as possible about the acceptance process. Please don't book travel or accommodations until we confirm registration.
We're committed to accepting a diverse group for each training and to supporting folks with less access to resources to attend. People of color, working class folks, and folks from less-resourced organizations are encouraged to apply. We also aim to accept people with specific groups, projects, or organizations back home to apply what they learn. If you'd prefer to apply by phone instead of online, there is a phone number included in the application.
Bring this workshop to you!
Do you want to host this workshop with members of your organization or group? If you have multiple group members or staff interested in this training, we can come to you. To request we bring this workshop to your group, submit a custom request and let us know.