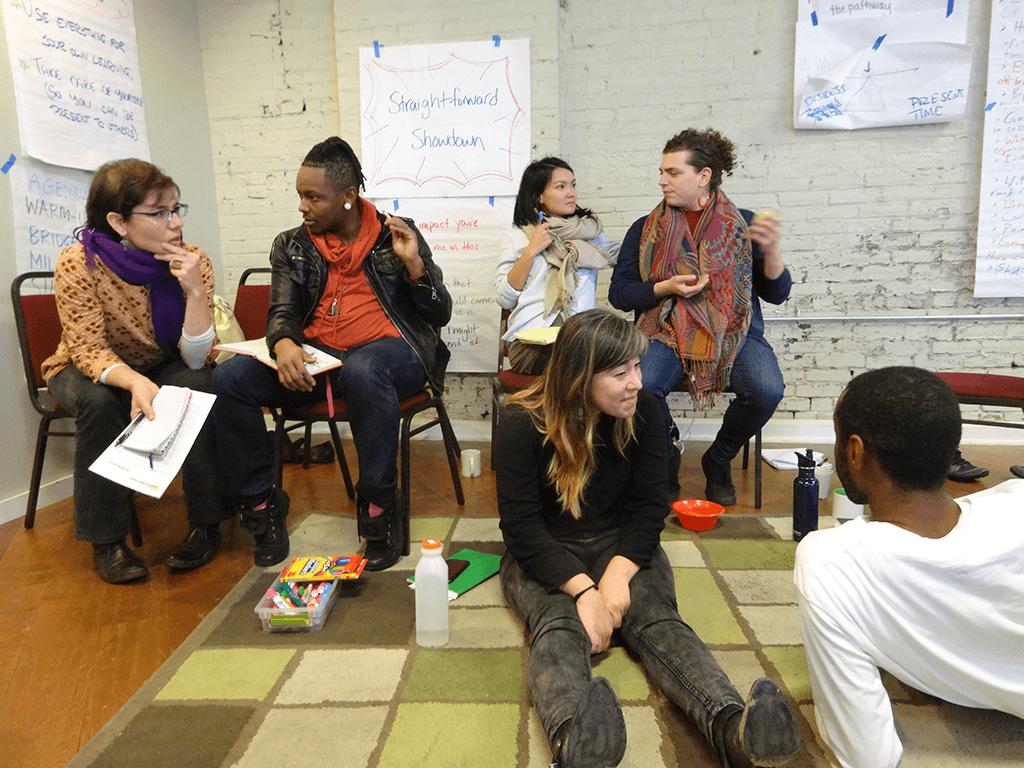 White People Confronting Racism
This workshop is for white people who want to challenge the racism around them — and in their own heads and hearts — and who are searching for a way to strengthen their work for racial justice. It's for white folks who already do anti-racism work but want to develop their skills and deepen their approach. And it's for white folks who want a better understanding of how white privilege and racism operate in society and inside of them.
No Up Coming Workshops Found
Space is limited; early registration is strongly encouraged. The fee includes 6 meals, introductory readings, and over 22 hours of training. Scholarships are available. If you need lodging, please indicate that when registering and the trainers will be in touch with more information.
We receive and accept applications on a rolling basis, but aim to confirm all participants at least a month before the training. We're mindful that folks coming from out of town need time to book travel, and we'll follow up as soon as possible about the acceptance process. Please don't book travel or accommodations until we confirm registration.
We're committed to accepting a diverse group for each training and to supporting folks with less access to resources to attend. People of color, working class folks, and folks from less-resourced organizations are encouraged to apply. We also aim to accept people with specific groups, projects, or organizations back home to apply what they learn.
| | | | | | | |
| --- | --- | --- | --- | --- | --- | --- |
| If your income is… | $15,000 | $15,001 – $25,000 | $25,001 – $35,000 | $35,001 – $45,000 | $45,001 – $55,000 | over $55,000 |
| You Pay… | $180 | $210 | $250 | $300 | $350 | $400 |
In a non-judgmental, supportive setting, participants will...
Build confidence in their ability to address racism through action; increase their understanding of how racism functions and what their role in it is; explore their internal racism and barriers to working on it; develop a personal vision for racial justice; build their skills in being accountable allies to people of color and working in coalitions; develop strategies for interrupting racist situations; increase their ability to support other white people doing racial justice work; and build an action plan of concrete next steps.
What participants say about this workshop...
«What a breath of fresh air.»
«Great progression from feelings to history to internal/self to group to system level to fears to real actions.»
«I learned that I don't need to let white guilt keep me from addressing racism or utilizing my white privilege for the good.»
«Good balance of serious focus and lightheartedness and fun.»
«I finally saw the importance/value of taking small, tangible steps.»
«I found a ready, willing, and friendly group of people representing a fairly diverse set of backgrounds.»
«I came in without knowing what I didn't know, and am leaving with awareness and humility, and coming to terms with my upbringing.»
Bring this workshop to you!
Do you want to host this workshop with members of your organization or group? If you have multiple group members or staff interested in this training, we can come to you. To request we bring this workshop to your group, submit a custom request and let us know.
[google-translator]